The American Library Association designates September as "Library Card Sign-up Month" –all across the country parents are reminded that the most important school supply of all is your public library card! A library card is your portal to books, e-books, audiobooks, DVDs and more.
During September, the JFHML begins another season of preschool Story Hour featuring Librarians Deb Weide, Sharon Beaman, BeckyMunns and Peggi Beseres on Wednesdays at 10:30 a.m. beginning September 13. Themes include Welcome Back, ABC & 123,  and Circus Friends.
Watch for special events all year long at your library.  Mark your calendars for Thursday, October 19-MEA weekend- when the Library will host the 9th annual American Girl Doll Tea from 11:00 a.m.-1:00 p.m. This JFHML Friends sponsored event is for ages 5 & up and will require pre-registration.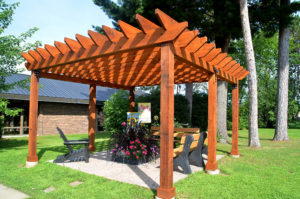 This summer, the Le Connection area (updated wifi internet café, computer lab, expanded bookstore and coffee bar) celebrated its four year anniversary. The Library also continues to enjoy the addition of a 14' X14' pergola over the Garden of Read 'N area. The pergola was the Eagle Scout project of life scout Christopher Boucher. Make sure to also enjoy the bench, apple tree & solar light placed on library grounds in memory of Pamela Grace Smith.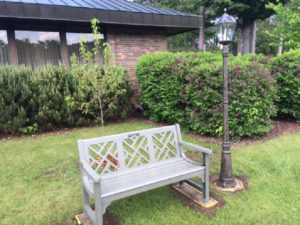 With over 2700 e-book titles (from a generous ACCESS4ALL grant from the Otto Bremer Foundation) we are proud to provide access to literacy for all ages.  The Library offers 9 printer-capable pcs in its updated lab, two laptops & Dell tablets for teen checkout, 8 i-pads for in-house check out and 2 LeapPads for preschoolers. A flat screen television is in use along with XBox 360 with Minecraft & assorted games in Curbside, the teen area. Cattale Corner is open for interactive play for young patrons. The newest addition is JUNCTION 101, a creative Make & Do zone focusing on ages 8-12. Items available for in-house checkout include: Legos, Scrabble, assorted board games, origami, coloring materials and MORE! The JFHML is truly THE place to connect with others, whether on-line or in person.
September is also a time to reflect on gifts received.  This past year the Library has witnessed the generosity of a community who has once again helped to tackle a $35,000 funding gap. This goal was reached in August! It is amazing to see the impact of people working together to keep their community public Library vibrant and sustainable.  The JFHML Friends Foundation continues to impact the funding structure of the Library.  The Friends are always seeking new members and active volunteers to man their on-site used bookstore, Backstreet Books.  Six years ago, Backstreet Books opened its doors for business. The bookstore is operated by Friends members and is open during library hours.
The Quillmasters Writing Group meets at the JFHML the third Tuesday of the month. The next meeting is Tuesday, September 19 @ 10 am. All creative souls are welcome.
The possibilities are endless at the JFHML-your multi-generational, cultural hub.  We have 108 current periodicals, 8 local and national newspapers, 9 internet computer printer capable terminals and free wireless service.  We receive new books, e-books, audios and DVDs monthly. Fall Hours will begin September 1.  The Library will be open Mondays and Wednesdays 10-6, Tuesday and Thursdays 10-8 and Fridays and Saturdays 10-2.  The Library will be closed Saturday, September 2 and Monday, September 4 in observance of Labor Day. Check out our website at www.hallettlibrary.org, which provides 24/7 card catalog access. Join us on Facebook. We are waiting to serve YOU!