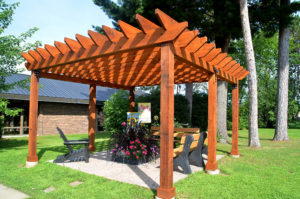 The JFHML is the perfect place to spend a summer afternoon and connect with others.  The "Le Connection" area features state-of-the-art access on nine printer capable internet PCs, a wifi internet café, expanded Backstreet Bookstore and coffee bar. The mission of the JFHML is to create a welcoming environment to promote lifelong learning and foster positive social interactions and connectivity. By offering a coffee bar (with new refrigerated beverages) and free internet access, the ultimate goal is to enhance the Library Experience.
Come in and access your e-mail account or Facebook page, check out one of the many ipad tablets for in-house use, browse book shelves and find the latest ideas in gardening, raising chickens, planning a wedding or starting a new business. Download one of 2600 FREE e-book titles. New books and DVDs arrive daily.  The Library card catalog is featured on-line 24/7.  Simply visit the website at www.hallettlibrary.org & browse away.  If you would like to reserve, request or renew materials, just log in with your library card number and your 10 digit phone number. The Library is your up-to-date one-stop resource area for all of your needs. Pick up your complimentary copy of Book Pages, a user-friendly newspaper of book reviews—the "go to" companion for book club readers. Or enjoy the garden/patio area, "Garden of Read'N" where you can access free wifi in the shade of mighty pines and the newly constructed pergola by Eagle Scout Christopher Boucher.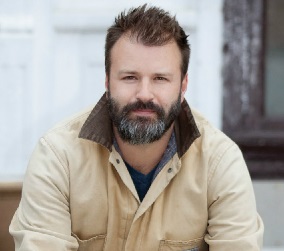 Bestselling Author, Nickolas Butler, will be featured as the JFHML June Author Talk. Butler, author of novels Shotgun Lovesongs, The Hearts of Men, and Beneath the Bonfire, an anthology of short stories, will be here on TUESDAY, JUNE 6 at 6:30. Books will be available for purchase and refreshments will be provided by the Friends. For more info about this event visit www.hallettlibrary.org or www.nickolasbutler.com.
Property Tax Help with certified AARP volunteers will be available on Wednesday, May 31 and June 28  from 1-4 for walk-ins, no appointment necessary.
The Junction 101 area will be hosting two Make & Do classes this summer for ages 8-12. Ginny Larson will be teaching Knitting 101 on Tuesday, July 18 at 6 pm and Deb Weide will be teaching Origami 101 on Tuesday, August 15 at 6 pm. These classes are a part of the IU2U (It's Up to YOU!) teen mentorship project of the JFHML. There is limited enrollment and student MUST pre-register by calling 546-8005.
Summer is a busy time for children's programming.  On Wednesday, June 28 at 10:30 Preschool Story Hour will begin with Summer Volunteer Story Readers Linda Kovatovich and Chelsie Meyer.  Thank you also to the following Volunteer Story Hour Volunteers:  Nancy Herberg, Carrie White, Kathy Hachey, and  Jamie & the Daycare Crew. If you are interested in conducting a story time, please contact Peggi.  The CATTALE CORNER area is now open for enjoyment and LeapPads may be checked out by the preschool set. In the teen area CURBSIDE, are two Dell Venue Pro 11 tablets and X-Box360 with Minecraft. Junction 101 provides Legos, Spirograph and Deluxe Scrabble which may be checked out and used on-site.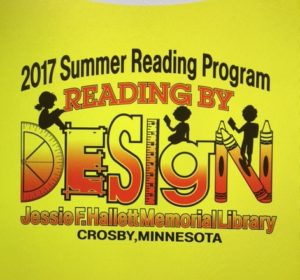 Children in Grades K-6 have until FRIDAY, JUNE 9 to register for the 34th annual Summer Reading Program "READING BY DESIGN." The program begins on Thursday, July 6 and continues through Thursday, July 27. Details about this award-winning program can be found each week in the Courier.  Forms for registration are available at the Library and on line to download at www.hallettlibrary.org. Limited Space! SIGN UP NOW!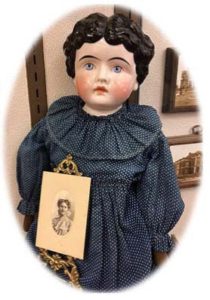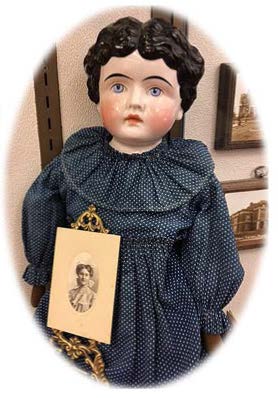 The JFHML Friends have planned the FRIEND'S MEGA BOOK SALE & JESSIE'S DOLL BOUTIQUE which will be held Wednesday, June 21 from 10:00- 6:00, Thursday, June 22 from 10:00-6:00 and Friday, June 23 from 10:00-3:00. Mark your calendars. This is the MEGA book sale you have been waiting for. The Friends have been busy sorting thousands of books.  This is the opportunity to find collectible books of every genre. Golden Books! Cookbooks! History! And MORE! Collectible dolls and accessories will be for sale also. Funds raised will be used to SPONSOR Author Talks . Refreshments will be served by the Friends.
Each year the Hallett Library raises $35,000 with the support of local cities and townships, the JFHML Friends Foundation, donations from patrons, businesses, civic groups and memorials. Along with the generosity of the Hallett Trust, the local support our library receives reinforces the importance of your multigenerational cultural hub; a place to connect with others and broaden your horizons. The Library has raised $32,000 the first five months of 2017. By working together anything is possible!
Summer hours (beginning May 27) are Monday, Wednesday, Friday 10-6 and Tuesday and Thursday 10-8. The Library will be closed Monday, May 29. Stop in at 101 1st St SE and see all the Library has to offer.  Watch for upcoming events on the electronic sign featured on the highway adjacent to the Library. Each week a supporting Business Friend is displayed. Connect with others today!