Hallett Library Begins 40 years of Service in 2018
In January, the popular Hot Reads for Cold Nights adult reading program kicks-off with readers encouraged to come in and pick up their packet of materials explaining the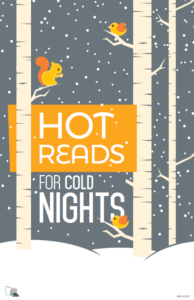 program. This will be the 14th year Hot Reads has been offered. Readers who read 20 titles between January 3 and March 9 will receive a 2018 Hot Reads mug while supplies last. The Hot Reads program is sponsored by the JFHML Friends Foundation.
Tax Help will begin in early February by appointment. The Minnesota Department of Revenue will NO LONGER provide state tax forms and instructions for Libraries. The IRS will only provide basic forms, no instruction booklets.  Beginning in mid-January, the staff at the front desk will be happy to take an appointment for Tax Help available on Tuesdays and Wednesdays from noon to 4 p.m. starting on February 6.  Call the Library at 546-8005 after January 8.

The Library has an active JFHML Friends Foundation which meets on the second Tuesday of each month (next scheduled meeting is January 9 at 5:00 p.m.) and is always seeking new members. The Friends are proud of their retail endeavor BACKSTREET BOOKS which continues to provide like new book titles, greeting cards and repurposed book art.  The creation of the Le Connection area-a wifi internet café, coffee bar, hi-speed printer capable computer lab & expanded bookstore has added a new user-friendly dimension to the Library experience.
There are fun and meaningful volunteer opportunities to fit your schedule.  Come in out of the cold and check out the possibilities at your neighborhood Library.
The Hallett Library was recently awed by the  generosity of JINGLE BOOKS supporters, who along with a matching grant from the Hallett Charitable Trust, were able to raise over $22,000 to purchase books, e-books, audiobooks, periodicals and provide programming in 2018.  The Library offers best sellers(with hardly a wait), over 2600 e-book titles, new DVDs and books on CD arriving daily, 108 periodicals and local and national newspapers.  Available are nine internet computers, FREE wireless access, ipads for in-house check out, two laptops & two Dell tablets available for teen checkout in Curbside and LeapPads for preschoolers in Cattale Corner. A 24/7 online card catalog can be accessed through the Library website at www.hallettlibrary.org. Get connected, stay informed and cater to your need to know…it's all here at 101 1st St SE.  The Library will be closed on Saturday through Tuesday December 30-January 2 for the New Year Holiday and beginning in January the Library will be CLOSED ON MONDAYS.