April Gratitude & Transformation
April gratitude is in full swing at the Jessie F. Hallett Memorial Library.  National Library Week is observed April 9-15.  We celebrate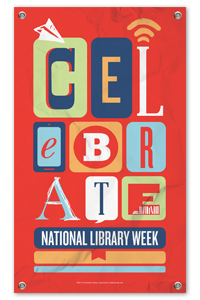 libraries with the American Library Association theme: "Libraries Transform!" Author Libba Bray conveys meaningful benefits to library card carriers: "The library card is a passport to wonders and miracles, glimpses into other lives, religions, experiences, the hopes and dreams and strivings of ALL human beings, and it is this passport that opens our eyes and hearts to the world beyond our front doors, that is one of the best hopes against tyranny, xenophobia, hopelessness, despair, anarchy and ignorance. "
Pre-school Story Hour continues each Wednesday morning at 10:30.  Along with spring themes of Easter Parade & April Showers, on Wednesday, April 19, the Story Hour children and caregivers will make a visit to the Cuyuna Range Care Center for a Spring PETS! Story Hour.  After stories and songs, the children will share a snack with the residents. A special event featuring magician Robert Halbrook will be THE MAGIC RABBIT MAGIC SHOW on April 5 at 10:30. Halbrook's visit is made possible by funding from the Mille Lacs Energy Cooperative and the JFHML Friends Foundation.
April also commemorates National Volunteer Week. Library staff & Friends will honor our dedicated Volunteers with an appreciation on Monday, April 24 from 6-9 p.m. at the Deerstand in Deerwood. This after-hours event is by invitation, and will consist of a group photo, Comedy Ventriloquist Show, hors d'oeuvres, beverages and prizes, and is sponsored by the JFHML Friends. We are extremely grateful for our 80+ active volunteers.  We would not be the facility we are without their many helpful hands. Here at the Hallett Library, we take our volunteers very seriously…and have expanded our supporters with the formation of the JFHML Friends Foundation.  This 501-(c-3) group formed in February 2011 meets on the 2nd Tuesday of each month at 5:00. (April 11, May 9 and June 13) The Friends have sponsored many programs already and their impact is helping the Library meet its $35,000 funding gap (which now stands at $11,000.) For a total list of volunteers and volunteer opportunities, visit our website at www.hallettlibrary.org or call the Library at 546-8005.


The JFHML continues its trend of state-of-the-art technology with an on-line 24/7 card catalog access (www.hallettlibrary.org), and the addition of 2600 e-book titles for patrons.  Visit http://jessiehallett.overdrive.com
On Tuesday, April 18 at 6 pm. the JFHML Friends Foundation will be sponsoring a FREE Fancy Lettering Class with Kim Gibson, open to all ages-adults included. This event is in conjunction with the IU2U(It's Up to YOU!) teen mentoring project of the JFHML. Please call 546-8005 to register.
AARP 2016 Income Tax-Help will be ending Wednesday, April 12.  Property Tax Help will be available for walk-ins (no appointment needed) on the following Wednesdays from 1:00-4:00 —May 31, June 28 and August  9.  The JFHML is here to help you with your day-to-day needs. With one-stop you can pick up a bestseller, a recent DVD, check your e-mail or Facebook page, read local & national news, attend a program or find a quiet place to read or visit. Browse Backstreet Books for like new books, greeting cards by area artists & photographers, and fun repurposed book art. Enjoy coffee, tea or a soda in the Le Connection internet café.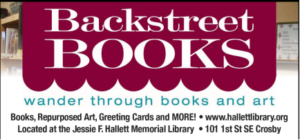 We cater to the curious. We are proud to serve our community and meet your needs as a multigenerational cultural hub. Library Hours Monday & Wednesday 10-6, Tuesday & Thursday 10-8, Friday and Saturday 10-2.
Let the JFHML transform your life—-TODAY!