May is sign-up month at the Jessie F. Hallett Memorial Library.  Sign up forms for the 34th  annual Summer Reading Program: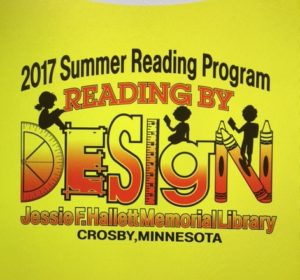 "READING BY DESIGN 2017!" are now available for students in Grades K-6 at the Hallett Library. Forms may also be downloaded at www.hallettlibrary.org. Make sure to return the registration form to the Library by Friday, June 9 to receive a FREE t-shirt and ensure a slot for your child in this popular program. "READING BY DESIGN!" runs Thursday mornings July 6-July 27.
Pre-School Story Hour will conclude their regular season on Wednesday, May 10 at 10:30 with an end-of-year ice cream party. Summer Story Hour with Volunteer readers will begin June 28 and continue through the end of July. All Story Hour programming is held on Wednesday mornings at 10:30 a.m. No pre-registration is required.
IU2U (It's Up to You!) teen mentoring program at the JFHML is celebrating its second anniversary. This spring, the IU2U program has focused on the creation of JUNCTION 101, a hands-on creative zone for ages 8-12.  Make & Do Classes were held each Tuesday evening in March and coming during summer 2017 will be more Make & Do Tuesdays including Knitting 101 with Ginny Larson & Origami 101 with Deb Weide. More info to follow. The IU2U mission is: FOSTERING PARTNERSHIPS & RELATIONSHIPS THROUGH POSITIVE INTERACTION, BEAUTIFICATION, LITERACY AND MENTORING.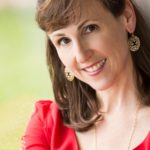 The Quillmasters Writer's Group will be hosting a Writer's Workshop with Author Kate St. Vincent Vogl on Tuesday, May 16 from 10 a.m.-1 p.m. There is a limit of 20 participants. Registration is required ; the $7.00 fee includes lunch provided by Mixed Company A Kava House. For more information about the workshop visit the home page of the Library website: www.hallettlibrry.org.
On Wednesday, May 31, AARP-trained Tax Aides will be here from 1-4 pm to help residents file their 2016 Property Tax statements. Walk-ins only-no appointment necessary! Other summer Property Tax Help dates include Wednesday, June 28 and Wednesday, August 9.
The JFHML Friends Foundation (the 501 c-3 fundraising arm of the Library) members are busy preparing for their annual MEGA BOOK SALE, to be conducted Wednesday, June 21-Friday, June 23. This year, the Friends will be holding a Jessie's Doll Boutique in conjunction with the sale. Dolls and accessories will be available for purchase. All proceeds will fund Author Talks @ the Library.
Each year the Library must tackle its $35,000 funding goal. In 2017 from January-April, the Library and Friends have raised over $27,000! The Library appreciates and thanks the generosity of area cities and townships- along with Crosby, the cities of Deerwood, Cuyuna, Riverton & Ironton donate annually. Townships of Irondale and Wolford also give generously.  We work with School District #182 to provide e-book access to all students.  The partnerships we form with surrounding businesses and charitable organizations make all things possible at your community public Library!
Mark your calendars for a special Author Talk with bestseller Nickolas Butler , author of Shotgun Lovesongs & The Hearts of Men.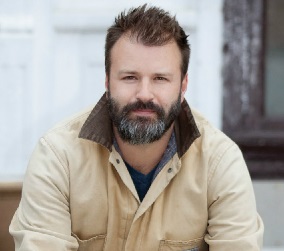 Butler will be at the JFHML on Tuesday, June 6 @ 6:30. Refreshments provided by the JFHML Friends Foundation.
Visit the JFHML and take a look at all we have to offer.  New CD books, DVDs, e-books and bestsellers arrive daily.  We feature nine internet computers in our technology lab, along with wireless access for laptop users. Several ipads are available for in library use. 2 Leap Pads can be checked out for preschool play. Dell tablets and XBox360 with Minecraft are available for teens in the Curbside area. JUNCTION 101 offers Lego Kits, Spirograph and Scrabble to be checked out in-house.  Enjoy the Le Connection wifi internet café, coffee bar & expanded Backstreet Bookstore. The Garden of Read'N patio adjacent to the building, with newly designed pergola by Eagle Scout Christopher Boucher, offers a sanctuary to savor the sunshine. Visit our website at www.hallettlibrary.org , to find upcoming events, access to e-books, Library Stories and MORE!  Friend us on Facebook.  We are celebrating 39 years of connecting with others on the Cuyuna Range!