The Jessie F. Hallett Memorial Library and the JFHML Friends Foundation have designated February as Library Lovers' Month.  This is a time established to thank libraries for the powerful role they play in our society, helping people of all ages and walks of life connect quickly and efficiently with the information they need for school, work and personal fulfillment.
For children, our Pre-school Story Hour led by Story Ladies Deb Weide, Sharon Beaman, Becky Munns and Peggi Beseres is held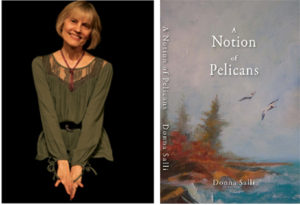 each Wednesday morning at 10:30. Story Hour continues throughout the month with fun-filled themes of Winter Hearts, Character Friends, Yoga with Gina & More.
Adult readers are enjoying a Library program of their own-"Hot Reads for Cold Nights"- with 50+ registered readers. During the course of this popular winter program, over 150 books have been read since January 3. It is still not too late to sign up! In February the Library is proud to sponsor three "Sizzlin Thursdays" events.   On February 9, beginning at 7:00, Bee Nay She Bird Council will present bird programming.  On February 16, from 6:30-7:30, a soap-making presentation will be made by Abbie Schramm. On February 23, from 6:30-7:30 the community is invited to an Author Talk with Donna Salli  and her newly published A Notion of Pelicans. Books will be available for purchase and signing by the author.
The Hallett Library now offers over 2600 e-books which can be easily downloaded at https://jessiehallett.overdrive.com. Reading device help is available on Mondays between 4-6 p.m. The library has several i-pads available for in house checkout, made possible by a generous grant from the Otto Bremer Foundation. We offer 9 printer capable PCs in our Le Connection computer lab area, 2 Dell tablets for teens along with XBOX360 and Minecraft in Curbside and LeapPads for preschoolers in Cattale Corner. FREE wifi is available along with an internet café & coffee bar.

The IU2U (It's Up To YOU!) teen mentorship program continues with its mission to: provide a community program for youth

fostering partnerships & relationships through positive interaction, beautification, literacy and mentoring. Beginning in March, JUNCTION 101, a creative Make & Do Zone for ages 8-12 will be opening with activities facilitated by community members each Tuesday evening from 6-7 pm. Planned creative sessions include collage, weaving, electronics, Legos & more! More information is available on our newly updated website www.hallettlibrary.org.
The JFHML has many resources available for seniors. We have an extensive collection of Large Print fiction, mysteries and westerns with over 5,000 titles, along with many popular CD book titles. A library staff member is happy to deliver materials if you are homebound, or unable to come to the Library.  Beginning February 1, certified AARP Tax Aides are on site each Tuesday and Wednesday afternoon from noon until 4 p.m. Call the Library at 546-8005 for an appointment to receive Tax Help on your 2016 tax return.
All of these events are prominently displayed on our electronic sign adjacent to the Library along the Highway.  This signage was made possible by a grant from the Hallett Charitable Trust, Minnesota Power, JFHML Friends Foundation and Cuyuna Lakes area residents.
The JFHML Friends Foundation meets on Tuesday, February 14 @ 5:00 and continues with their fundraising efforts Backstreet Books and the "Shelve the $35,000 Funding Goal" campaign.  During February the Friends will be doing their annual membership drive. With your continued support, the JFHML is able to provide the finest in programming, technology and materials to our residents.

The Library shelves are stocked with enticing materials to improve your life. We provide 108 current magazines, an archive of older periodicals on shelves available for checkout and eight local, state and national newspapers. We have 1913-2007 Crosby-Ironton Couriers on microfilm, copies of C-I Crosironites (yearbooks), new bestsellers, CD books, and DVD's arrive daily. We are very proud of our e-book collection. Make the choice to come and check out the possibilities available at 101 First Street SE. Friend us on Facebook. Love your library! Our website offers 24/7 access to our card catalog. Visit us at ANYTIME at www.hallettlibrary.org. Your Community. Your Library. Your place to connect with others.