Summertime and libraries are the perfect mix. Whether you are an electronic device reader, or someone who prefers to turn the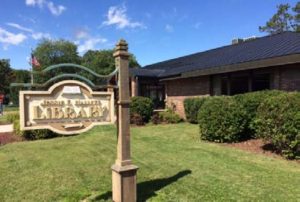 pages of an actual book, we offer bestsellers and a collection of over 43,000 volumes for check out. Current DVDs, audiobooks and magazines are also available. A Hallett Library card is your connection to possibilities!
Preschool Story Hour is conducted by Volunteer readers on Wednesday mornings from June 28-July 26.  Thank you to volunteer readers Linda Kovatovich, Chelsie Meyer, Nancy Herberg, Carrie White, Jamie Sloth & Daycare and Kathy Hachey. During 2016, our popular Story Hour program was held 38 times for over 1,900 attendees! 2017 looks like another record-breaking year!
School age children (those who have completed grades kindergarten through sixth grade) are welcome to attend the 34th annual Summer Reading Program "READING BY DESIGN" held Thursday mornings July 6- July 27. Registration is now closed ( 90+ have preregistered) but children are still welcome to attend as "guests" at age appropriate groups.  Please no adults or preschoolers. This program is made possible by the following donors: Bay Lake Lions, Crosby Fire Relief Association, Crow Wing Power Community Trust, Cuyuna Fire Relief Association,  Cuyuna Range Lions, Cuyuna Range Women's Club, Deerwood Lakes Lions, Ironton Myrin-James Legion, JFHML Friends Foundation, and Ruttger's Bay Lake Lodge.

Junction 101, the hands on creative Make & Do Zone catering to ages 8-12, is the latest addition to the IU2U (It's Up to YOU!) Teen Mentorship program at the JFHML. Two Make & Do classes will be offered this summer. Knitting 101 with Ginny Larson will be on Tuesday, July 18 at 6 pm and Origami 101 with Deb Weide will be on Tuesday, August 15 at 6 pm. These classes fill up quickly and require pre-registration.
Our $35,000 Funding Gap continues to decrease with the overwhelming support of the community. The JFHML Friends Foundation continues to help "shelve the gap" with their individual & business Membership Drive, their expanded Backstreet Books onsite Library bookstore, Coffee Bar & Fundraisers. In six months, the Library and Friends have raised over $32,000.  Over 90 active volunteers and a generous patronage support their community library wholeheartedly. The Le Connection area which includes an updated computer lab, wifi internet café, expanded bookstore & coffee bar is a collaboration of funding from the Hallett Library, the JFHML Friends Foundation and a TOP (Thriving Organization Partnership) Financial Resiliency & Social Enterprise grant from the Initiative Foundation, a regional foundation. The latest amenity to be offered is a selection of cold beverages. Your community library is THE place to connect with others, whether online or in person.  Your public library offers a 24/7 online card catalog at www.hallettlibrary.org, along with over 2750 e-book titles and ipads for in-house check out. These technology advancements are made possible by an "Access4All" technology & literacy grant from the Otto Bremer Foundation. We are also proud of our partnership with Crosby-Ironton School District #182, which helps to provide e-book access to all K-12 students. Tech additions include Dell tablets, XBox360 with Minecraft & other games for teens and Leap Pads for preschoolers.
The Jessie F. Hallett Memorial Library is your summer oasis for one-stop services.  Pick up a bestseller, a recent DVD, check your e-mail or Facebook page on one of our nine computer internet terminals, or bring in your own laptop and enjoy wireless capabilities.  Check out an ipad at the front desk and relax in Le Connection while savoring a cup of coffee. Enjoy The Garden of Read'N  located on the Library grounds. Have your property tax forms completed by an AARP tax-aide on Wednesday, June 28 and Wednesday, August 9 from 1-4.  We feature 108 periodicals and eight local and national newspapers.  Check us out! We cater to the curious…  Summer hours are Monday, Wednesday, Friday 10:00-6:00 and Tuesday and Thursdays 10:00-8:00.