A community program for youth fostering partnerships & relationships through positive interaction, beautification, literacy and mentoring.
Join us as we make a difference in our cuyuna lakes community!
Partnering with:
Jessie F. Hallett Memorial Library
JFHML Friends Foundation
Cuyuna Range Youth Center
Kinship Partners
Cuyuna Lakes Area Business
This is an opportunity for youth and community members to join together. The 2015 (year 1) focus is the formation of teams to create Little Free Libraries (LFL.)
Visit littlefreelibrary.org
What is a team? A minimum of one adult and one teen.
Call now for information.
Call the Hallett Library at 218-546-8005; ask for Deb, Sharon, or Peggy, or
Call community-contact Kim Gibson at 218-821-8747,
Or e-mail hallett@hallettlibrary.com
LFL team kit, official registration fee ($38) and house-warming party after LFL completion are provided by IU2U.
Your team will design, create and maintain your LFL.
IU2U and Little Free Libraries Are EVERYWHERE!
The Gibson/Lattery team dedicates an LFL in memory of John Pribyl at Serpent Park, Crosby.
Dedication ceremony held June 25, 2015.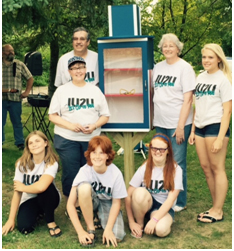 LFL Salem Youth Group team Little Free Library located in Veteran's Park in Deerwood is in Honor/Memory of area Veteran's.
Dedication ceremony held July 29, 2015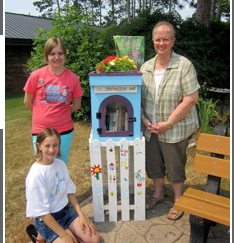 Garden of Read'N team of Kaira Reese, Ashley Bartel, and Laurel Reese. LFL in Memory of Jeanette Smith and in Honor of Hallett Library Readers.
Dedication ceremony held August 14, 2015.